Mantan Moreland parlayed his cocky but jittery character into a recognizable presence in the late 1930s and early 1940s, appearing in a long string of comedy thrillers and more than 300 films in all.
At the age of 12, Mantan Moreland joined the circus and found success in vaudeville for many years before coming to Hollywood. Mantan's focus gradually shifted towards film, where he initially appeared in servile bit-parts (shoeshine men, porters, waiters). However, his talent for making people laugh couldn't be overlooked and he soon earned featured status in Harlem-styled western parodies and grade "A" comedy films playing the superstitious, ever-terrified manservant running from any kind of impending doom. Moreland's film debut was in That's the Spirit (1936), although he did not have a credited role. Boxer Joe Louis helped him land his part in Spirit of Youth (1938), featuring Louis himself.
Mantan Moreland with Charlie Chan
Moreland's characters were nervous and jumpy, and ready to leap out of his skin at the slightest noise. He could pop his bulging eyes and had a way of making his entire body quake with teeth-chattering tremors. Moreland's defining role was that of Birmingham Brown, the loyal chauffeur to master detective Charlie Chan in fifteen films made by Monogram Studios in the 1940s.
Mantan Moreland clip from Law of the Jungle (1942)
Moreland appeared in over three hundred films throughout his career. Some of his other films include It Started with Eve (1941), A Haunting We will Go with Laurel and Hardy (1942), Cabin in the Sky (1943), and See Here, Private Hargrove (1944).
Mantan Moreland worked Harlem's Apollo Theatre in the 1940's and 1950's with Redd Foxx. He was the featured comedian in the black-cast show "Rhapsody in Rhythm" in 1945. In 1957 he appeared on stage in New York in a black production of Samuel Beckett's "Waiting for Godot" as Estragon (Gogo). Reviewing the production for the New York Times, Brooks Atkinson praised the veteran comic's performance for bringing to the role "a suspicious joyousness of manner, a crack-voiced laugh, a teetry walk, a general feeling that he is the one who is going to be slapped."
In 1953 he hosted a short-lived variety show on TV called "Club Mantan" and featured some of the most popular black performers of the time.
In 1959, he told a Cleveland newspaper that he would "never play another stereotype, regardless of what Hollywood offers." He added, "The Negro, as a race, has come too far in the last few years for me to dash his hopes, dreams, and accomplishments against a celluloid wall, by making pictures that show him to be a slow-thinking, stupid dolt...Millions of people may have thought that my acting was comical, but I know now that it wasn't always so funny to my own people."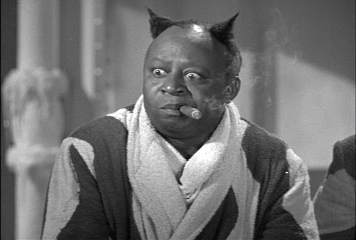 Mantan Moreland in "Cabin in the Sky" (1943)
In the late 1960s he managed a modest resurgence on TV, appearing in commercials as well as guest-starring on shows like, "Love American Style" "Adam 12" and "The Bill Cosby Show."
Moreland's last film role was a cameo in 1973, in the soft-core horror movie, "The Young Nurses" where, "Sexy young nurses apply special therapy in their daily rounds, as they work against a drug ring operating out of the hospital."
Mantan Moreland died in Los Angeles on September 28, 1973.
---